Getting Real About Porn

Examining the Industry of Anti-Woman Propaganda
with Women's Activist Samantha Berg
Take the master class →
It takes bravery to say we know porn is harmful and we're not going to look away.
Porn is all around us, even if we're not really seeing it.
Porn is culture, culture is porn.
Even if you're not watching explicit porn, chances are porn is still in your life, your relationships, and i
n your consciousness.
So how do you identify it and how do you get rid of it?
It's time we take a hard look at what's really going on in porn, the industry at large and the ways it's crept into our minds and bodies.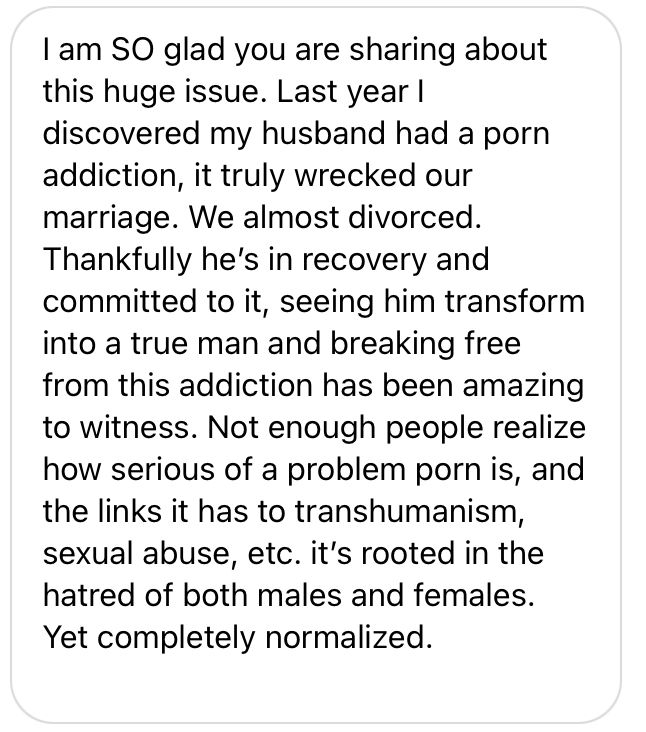 Women and men around the world are saying NO to porn in their lives.
This class is for you if:
✓

You're committed to showing up as the most empowered & embodied version of yourself in sisterhood, mothering and your romantic relationships.
✓ You know about some of the harms of porn but hesitate to talk about it with potential partners, friends and family.
✓ You're gender critical but feel a bit sticky when it comes to responding to pro-porn talking points.
✓ You're in a relationship with a porn addict or recovering addict.
✓ You're a woman who consumes porn sometimes or compulsively.
✓ You want to find a man who isn't porn addicted but aren't sure if it's even realistic at this point...
✓ You're seeking guidance from a wise woman with 20+ years experience working with women exiting the sex industry and struggling with porn addiction.
✓ You're ready to take a hard look at what your partner and sons are consuming.
I'm in!
This 3 hour master class includes:
Lecture with sex industry expert and anti-porn activist Samantha Berg

Uncensored conversation with Samantha Berg & Isabella Malbin

Live Q&A

Resource List

Lifetime access to the recording
What you'll walk away with:
An evidenced critique of porn as a form of popular media.

An understanding of how porn makes violence erotic and undermines women's humanity.

Examples of how racism in porn reinforces stereotypes forbidden in other media.

An understanding of how porn functions as a grooming tool for both new victims and new consumers.

A warning about the coming wave of deepfake and AI porn.
Responses to common pro-porn talking points.

Enhanced confidence when talking to people about porn.

A greater understanding of the ins and outs of the porn industry.

Action steps: How to get involved with anti-porn activism.

Strategies on how to broach the topic with potential and current sexual partners.
"Sam Berg takes an unflinching radical feminist approach in her analysis of the misogynist porn industry. By unpacking how pornography, trafficking, and prostitution intersect with patriarchy, she reveals the ways that pornography is at the core of legitimizing, glorifying, and cementing women as a subordinate sex-class. It is time for us to take on this industry, and say no more!"
- Gail Dines, Author of Pornland: How Porn Has Hijacked Our Sexuality
About Samantha Berg
The Expert
With 20+ years of experience, Samantha Berg is a radical feminist writer and organizer focused on reducing men's demand for prostitution. Sam has presented in public over forty times, organized fifteen feminist events, and co-founded the Women's Liberation Front (WoLF). Before social media, anti-prostitution activists needed an online space to coordinate actions, so Sam created the forums at Genderberg.com, one of the earliest internet radical feminist communities. Her latest published articles and media interviews are at Johnstompers.com.
Sam has been featured on Vice News Hate Thy Neighbor: Feminism 101 and the Whose Body Is It Podcast.
About Isabella Malbin
Host & Moderator
Isabella is a life coach for sovereign women, a trained hypnotist, passionate birth worker and podcaster. Through one-on-one coaching, Isabella teaches women the tools to stop getting triggered by every-freaking thing, cultivate resilience, increase self-confidence and reclaim their reproductive sovereignty. On the Whose Body Is It Podcast, she interviews radical women from around the world raising consciousness on the harms of transgender ideology, porn and prostitution and exposing the many tentacles of the medical industrial complex.
Frequently Asked Questions
How long is the master class?
How much is the master class?
Will I learn how to talk to my kids about the dangers of porn?
Is this a good class for men who want to quit porn?